Cracow Guitar Quartet
Miłosz Mączyński – classical guitar
Joanna Baran-Nosiadek – classical guitar
Łukasz Dobrowolski – classical guitar
Mateusz Puter – classical guitar
About Cracow Guitar Quartet
An ensemble Cracow Guitar Quartet was founded in 2006 and is composed of artists who are bound with Krakow: Milosz Maczynski, Joanna Baran-Nosiadek, Lukasz Dobrowolski and Mateusz Puter.
The ensemble has been involved in implementing many music projects both in Poland and abroad and has been performing at the most prestigious guitar music festivals. The quartet has been conducting master classes for young virtuosos of classical guitar and has also been recording for Polish Radio and TV (including live in concert recording in the studio of the Polish Radio in Katowice).
The ensemble is a winner of many international competitions:
1st prize – 12th International Guitar Competition 2009 – Ile de Re (France)
1st prize – International Moscow Music Competition 2020 – Moscow (Russia)
1st prize – 5th Danubia Talents International Music Competition 2020 – Budapest (Hungary)
1st prize – The Muse – International Competition 2021 – Athens (Greece)
Grand Prix – 5th International Master Competition for Music Teachers 2017 – Warsaw (Poland)
2nd prize – 94 Concours International Leopold Bellan 2020 – Paris (France)
3rd prize – 15th Altamira Gorizia International Guitar Competition 2018 – Gorizia (Italy)
3rd prize – International Lake Como Virtuoso Competition 2023 – Bellano (Italy)
Global Music Awards in the category of classical music for the album Musical Landscapes – USA, 2023
In 2010 the CM Records published the CD of the quartet "From Ballet to Tango" demonstrating the beauty and richness of dance music spreading over from the Renaissance to modernity. This recording received excellent reviews in the Polish and foreign music press. In 2019 the ensemble officially represented Poland at the special concert of Cracow Guitar Quartet at St Giles' Cathedral in Edinburgh. In April 2022 the ensemble published a new album entitled "Musical Landscapes" (DUX Recording Producers) which is now arousing music lovers' large interest, honored in 2023 with the Global Music Awards in the category of classical music.
The ensemble gives also concerts in the capacity of four soloists accompanied by such symphonic orchestras as that of the Polish Baltic Philharmonic, Cracow Philharmonic, Swietokrzyska Philharmonic, Sudecka Philharmonic and Polish Art Philharmonic.

At present the Cracow Guitar Quartet is regarded as an outstanding Polish ensemble in classical guitar.

Cracow Guitar Quartet has been performed for among others:
International Guitar Festival - Ile de Re (France)
International Festival - Nuits Romanes (France)
International Guitar Festival BRNO (Czech Republic)
International Festival Ivana Ballu - Dolny Kubin (Slovakia)
International Guitar Festival - Modra (Slovakia)
Konzertreihe Gerlando im Hirsvogelsaal - Nuremberg (Germany)
Gitarrenfestival in der KlangMannufaktur - Hof (Germany)
St Giles' Cathedral - Edinburgh (Great Britain)
International Guitar Festival - Polish Guitar Academy in Poznan
International Guitar Festival GITARA + in Wroclaw
Czeslaw Drozdziewicz International Guitar Festival in Krynica
International Guitar Festival - Lubuskie Spotkania Gitarowe In Zielona Góra
Krystyna Jamroz International Music Festival
International Festival of Organ and Chamber Music - Wygielzow-Lipowiec
International Festival The Pearl of Baroque - Masters' Concerts
International Festival "World Music" in Polanica Zdroj
International Festival of Young Laureates of Music Competitions "Silesia"
International Music Festival in Kalwaria Zebrzydowska
Karol Szymanowski Philharmonic in Krakow
Polish Baltic Fryderyk Chopin Philharmonic in Gdansk
Artur Malawski Podkarpacka Philharmonic in Rzeszow
Oskar Kolberg Swietokrzyska Philharmonic in Kielce
Jozef Wilkomirski Sudecka Philharmonic in Walbrzych
Gorzow Philharmonic
Polish Radio Concert Studio in Katowice
Music in Bielany - Festival of Chamber Music in Warsaw
Festival - Orawa Guitar Days
Festival - Jan Nepomucen Bobrowicz Days in Krakow
Guitar Festival in Wadowice
Biecz Music Summer - Festival of Organ and Chamber Music
Festival - Muzyka w zabytkowych kosciolach i wnetrzach Ksiestwa Nyskiego
Festival of Organ and Chamber Music in Czestochowa
Barbican Music Festival
Lutheran Festival of Chamber and Organ Music - Music on the Royal Route
Summer Festival - Muzyka nad Zdrojami in Szczawnica
Summer Concerts in Podgorze - Krakow
Former Palace of Cracow Bishops in Kielce
City Theatre in Sieradz
Miłosz Mączyński
Milosz Maczynski graduated with honours from the Krzysztof Penderecki Academy of Music in Krakow in the guitar class of Professor Michael Nagy in 2010. In 2014, under the supervision of Professor Janusz Sochacki, he defended his doctoral dissertation and received the degree of Doctor of Arts. Since 2015 he has been conducting the class of guitar in the Krakow Academy.
He is a winner of national and international guitar competitions and, inter alia, he was awarded the 3rd prize at the International Guitar Competition in Montreal (2011), the 3rd prize at the International Guitar Talent Competition in Brno (2014). He also received awards for outstanding interpretations – the Special Prize for the best performance of Mark Pasieczny's composition at the International Guitar Competition in Olsztyn (2009). He perfected his skills by taking part in numerous masterclasses conducted by, among others, Roberto Aussel, Ricardo Gallen, Pablo Garibay, Marcin Dylla, Edin Karamazov, Tilman Hoppstock, Jan Depreter.
He has performed as a soloist and chamber musician in Poland, Austria, France, Germany, United Kingdom, Italy and Slovakia. He participated in the first performances of works created by the Polish composers of younger generation, with whom he cooperates, thereby being keen on extending the repertoire for the guitar. He used to be a member of the jury at the Poland-wide guitar competitions and also in the auditions organized by the Centre of Artistic Education. Likewise he functions as a lecturer at the music workshops and summer courses.
Joanna Baran-Nosiadek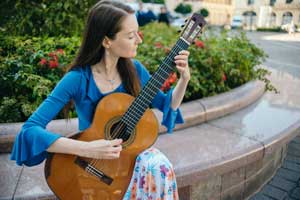 Joanna Baran-Nosiadek graduated from the Karol Lipinski Academy of Music in Wroclaw where she also perfected her classical guitar skills at the postgraduate master studies in chamber music in the class of Professor Piotr Zaleski, she completed them with distinction.
As a member of Alirio Duo she was awarded numerous prizes at classical guitar competitions, including: the 2nd prize at the Poland-wide Guitar Competition in Koszalin (1994), the 1st prize at the Poland-wide Guitar Competition in Kielce (1997), the 2nd prize at the International Guitar Competition in Gdansk (1997), special distinction and the 2nd prize at the International Competition of Chamber Ensembles in Przemysl (1998, 1999). She also twice entered the strict finales at the International Guitar Duos Competitions in Germany: in Nuremberg-Bubenreuth (1996) and in Cologne (1999).
Joanna Baran-Nosiadek attended many master courses, taught by outstanding musicians, among others by: Alirio Diaz, Raphaella Smits, Pavel Steidl, Philippe Villa, Simon Standage, Michael Troster. She gives concerts in Poland and abroad.
She made a series of transcriptions of the pieces, among others those by Johann Sebastian Bach, Mieczyslaw Karlowicz, Fryderyk Chopin and Karol Szymanowski – for the Cracow Guitar Quartet. She is a teacher of the guitar class in the F. Chopin State Secondary Music School in Krakow. She also conducts masterclasses, likewise she is invited to be a member of juries at music competitions.
Łukasz Dobrowolski
Lukasz Dobrowolski graduated from the Krzysztof Penderecki Academy of Music in Krakow in the guitar class of Professor Michal Nagy and from Musicology Department of the Jagiellonian University. He perfected his guitar skills while attending the master courses that were taught inter alia by Abel Carlevaro, Jorge Cardoso, Eduardo Fernandez, Gerhard Reichenbach or Marco Socias. He was granted scholarships at the University at Buffalo, The State University of New York, The Robert Anderson Research Charitable Trust in London and at the Universidad de Granada.
He has given recitals as well as chamber music concerts in Poland and abroad (Czech Republic, Slovakia, Hungary, Germany, Austria, Italy, France, UK, Canada, USA).
He also does some research in music in the Musicology Department of Jagiellonian University in Krakow. At present he prepares his doctoral dissertation which is devoted to the guitar concerts by Joaquín Rodrigo. A field of his interest in Musicology is the Spanish and Latin American music.
Since 2004 he has been collaborating with the PWM Publishers in Krakow. Lukasz Dobrowolski prepared also encyclopaedia entries that were printed in the PWM Music Encyclopaedia. He is the author of the first Polish contributions concerned with the biography of Edvard Grieg and Joaquín Rodrigo.
Mateusz Puter
Mateusz Puter graduated from the Krzysztof Penderecki Academy of Music in Krakow in the guitar class of Professor Janusz Sochacki in 2013. From 2014 to 2016, as a postgraduate student, he was perfecting his skills by continuing his studies at the Krakow Academy of Music under the direction of Professor Michal Nagy.
In addition he attended master courses conducted by such outstanding guitarist as: Marcin Dylla, Carlo Marchione, Gabriel Bianco, Alexis Muzurakis, Petr Seidl, Thomas Offermann, Gabriel Guillen and Ryszard Balauszko.
He participated in many national and international guitar festivals and competitions (for example in 2012 he was a finalist of International Guitar Competition in Berlin). The artist has performed as a soloist and chamber musician in Poland, Germany, Slovakia, Czech Republic, Italy and UK.
In 2017–2019 he repeatedly took part in the educational concert projects for children as organized by the Krakow Philharmonic.
The artist is also engaged in didactic activities by conducting the guitar class in the first and second degree music schools.